Do you experience pain even while performing simple day to day activities?

Do you have a lot of tightness in your hips?

You have come to the right place!
Get yourself checked by our expert Dr. Saurabh Talekar for all your orthopedic problems.
Dr. Saurabh Talekar is a competent orthopedic surgeon in Kandivali, Mumbai specializing in diagnosing and treating knee and hip conditions. He has completed years of training at prestigious institutes such as the Central Institute of Moscow and SICOT Belgium.
Dr. Saurabh Talekar has received fellowships in 'Basic hip and knee joint replacement' and 'Advanced hip and knee surgery' from Russia and Belgium. Hence, he is skilled in various hip replacement procedures and can provide an advanced and effective hip replacement in Vashi, Navi Mumbai.
If you want to know more about hip replacement surgery, read on this informative article.
Overview of Hip Replacement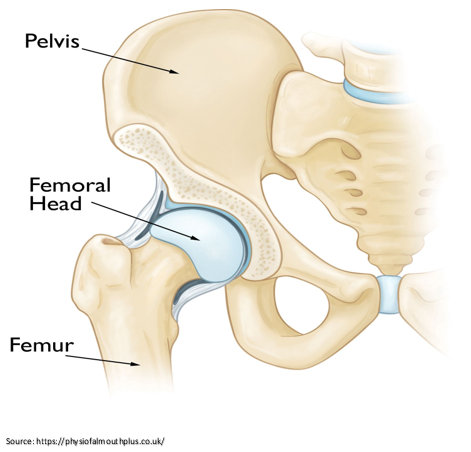 Hip replacement is a procedure for replacing parts of a problematic hip joint with an artificial joint. The implants or prostheses are made of long-lasting materials like Titanium alloys, Zirconium coatings, highly cross-linked polyethylene, or ceramics.
Dr. Saurabh Talekar, a skilled orthopedic doctor in Kandivali, Mumbai, performs hip replacement only when other conservative treatment options fail to provide relief.
Types of Hip Replacement Surgery
Dr. Saurabh Talekar is considered one of the best hip replacement surgeons in Kandivali, Mumbai. He specializes in various hip replacement procedures that help treat orthopedic hip issues.
Let's know the types of hip replacement surgeries:
1. Total Hip Replacement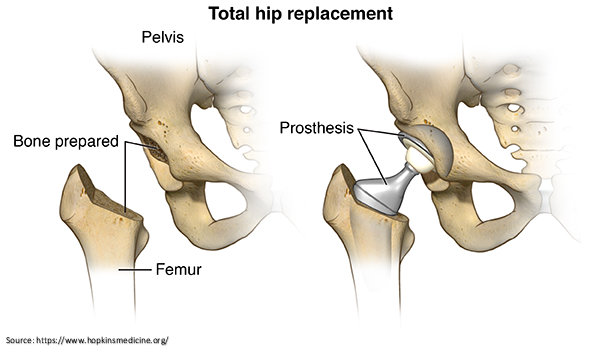 It is one of the common types of hip replacement. The surgeon uses artificial implants to replace damaged or worn-out hip parts in this approach.
They may utilize ceramic or metal (Titanium) alloy balls as the implant for femoral head replacement. The new ball is held in place by a metal stem inserted into the top of your femur.
When is total hip replacement recommended?
Dr. Saurabh Talekar may suggest total hip replacement in Vashi, Navi Mumbai when:
Hip pain and functional limitations become severe.
Medications fail to provide relief from symptoms.
Dependency on Pain killers to perform simple daily activities.
There is a hip fracture.
2. Partial Hip Replacement
It involves replacing only one side of the hip joint, namely the femoral head, rather than the entire joint as in total hip replacement.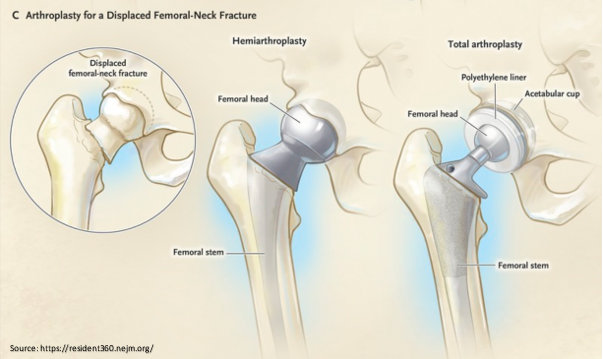 A Bipolar implant made of metal and polyethylene head fits on a metallic (Titanium) stem inserted in the thigh bone.
When is a partial hip replacement recommended?
Partial hip replacement surgery is done when only the ball of the hip or the upper part of the thigh bone is diseased or injured, and the socket is in good condition. Most commonly performed in older people who have a fractured hip.
Dr. Saurabh Talekar also performs the following hip-related procedures:
Total hip replacement for Intertrochanteric fracture of the femur.
Core Decompression and Stem Cell therapy for Avascular necrosis of the hip.
Revision Total Hip Replacement.
Procedure or Steps Involved in Hip Replacement
Orthopedic surgeons work with a team of Anaesthetists specializing in the latest pain management techniques. This ensures a pain-free experience during and after surgery for early rehabilitation.
After administering anesthesia, your surgeon will make a surgical cut on the buttocks to open up your hip joint.
Then your surgeon will:
Incise and remove the thigh bone head.
Remove the remaining cartilage and damaged or arthritic bone from the hip socket.
Place the new hip socket, and insert a liner in the new socket.
Insert the metal stem into the thigh bone.
Place correct-sized ball for the new joint.
Secure all new parts in place, usually with special cement.
Repair muscles and tendons around the new joint.
Stitch or close the surgical wound.
This procedure takes 1 to 1.5 hours.
What is the Cost of Hip Replacement in Kandivali, Mumbai?
The hip replacement surgery cost in Mumbai is relatively inexpensive compared to other metro cities in India. In addition, the cost of hip replacement surgery mainly depends on the type of hip replacement surgery required based on your medical condition and several other factors such as implant type, surgical technique, and so on.
There is a significant cost difference between partial hip replacement and total hip replacement in Kandivali, Mumbai. This is because both your hip's ball and socket joints are replaced with artificial implants during total hip replacement surgery. In contrast, only the ball joint of your hip is replaced with partial hip replacement.
Who is a candidate for a hip replacement?
In case of a worn or injured hip joint, surgeons recommend hip replacement surgery. Such disorders limit your mobility and cause pain even when you are resting.
Some of the most common conditions requiring hip replacement include hip fractures, osteoarthritis, and rheumatoid arthritis.
You may require hip replacement if hip pain:
Persists, despite taking pain-relieving medicines.
Exacerbates with walking, even with a stick or walker.
Impacts your quality of life and sleep.
Making it challenging to move and get up of a seated posture.
Affects your ability to walk up and downstairs.
Benefits of Hip Replacement Surgery
As hip replacement surgery is one of the most effective procedures, it offers several benefits.
The following are some of the benefits:
Improves mobility and function of the hip
Relieves pain
Improves quality of life
High success rate
Long-term results
Why Choose Wholistic Care Center for Hip Replacement in Mumbai?
Dr. Saurabh Talekar offers a patient-centric treatment approach with modern diagnostic and therapeutic services that match the highest standard of excellence.
We prioritize technological intelligence, which leads to the utilization of cutting-edge equipment in all of our surgical procedures.
Dr. Saurabh Talekar, our highly skilled orthopedic surgeon in Kandivali, Mumbai, believes in constantly improving the treatments he delivers by incorporating the most recent advancements in the field to provide unrivaled care.
We believe that high-quality healthcare is a right, not a privilege. Our treatments and services are cost-efficient so that everyone can afford them.
Please make an appointment with Dr. Saurabh Talekar, our orthopedic surgeon, to diagnose and treat your hip or other orthopedic issues.